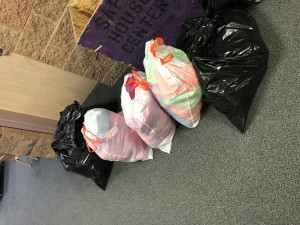 At J Bunkers and S Phelan Orthodontics we believe in the power of paying it forward. Community is important to us, and we're always looking for ways that we can help give back to those in need. Since Dr. Phelan is a native of Ann Arbor, Michigan and this month is Sexual Assault Awareness Month, we decided to donate to Safehouse Center.
Safehouse Center is a non-profit whose goal is to provide support and resources for survivors of sexual assault and domestic violence. They're determined to challenge and change the systems that allow this kind of abuse to continue to happen, all while providing a comforting, safe space for survivors.
When Dr. Phelan got married and her name changed, our team wanted to get updated T-shirts. Instead of throwing out the old ones,  we donated those 500 T-shirts to Safehouse Center to be used for crafting purposes and other needs. The families at Safehouse have undergone very difficult situations, and we feel honored to be able to provide a bit of ease in their journey to recovery in any way we can.
If you're interested in learning more about their organization or ways in which you could help, check out their website!